Wall Street--For the third straight week, the Camel C-Note, national currency of The Tropic of Cancer, has overtaken the U.S. Dollar.

U.S. economist Joe Ronsteil sees no answers for the surging currency, whose product-base and 300-year stability indicates a long road ahead for the United States, as they compete globally against not only the C-Note, but the Mexican Chicken, Russian Fabrege Egg, and Chinese Humanyen currencies. Ronstein elaborated, "The region's main export, tobacco, continues to control the global population of peer pressure giver-inners, a staggering 30% of the world's population of people without vertebrates. Competing against such a country is difficult because their main exports are craved globally to the point where even a 15% fatality rate in their product base doesn't affect their fiscal numbers."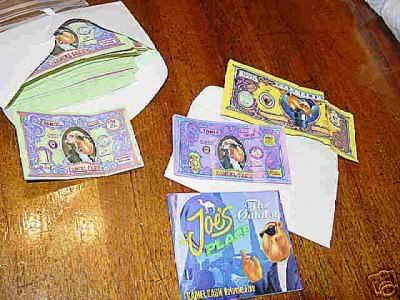 In an effort to gain an edge on the C-Note, United States legislatures have recently been placing bans on smoking, while increasing tax rates by as much as 40% in some places. Activist groups in the United States, as well as leaders of The Tropic Of Cancer, expressed great distress over what they call, "An overstepping of power". CJ Reynolds, Foreign Minister of Civil Liberties for The Tropic, issued a statement to the U.S. government:

"If smokers get more involved, they can be successful in stopping unfair smoking bans and cigarette-tax hikes. Almost 46 million adult Americans choose to smoke, and a large number of them have become active in protecting their rights. From coast to coast, smokers are opposing unfair treatment. They show up at council meetings and protest smoking bans. They collect signatures for petitions. They write letters to their elected officials insisting that their rights be protected. And, most of the time, elected officials take the opinions and feelings of adult smokers into account when voting on proposed legislation.

Their actions are helping to protect the rights of smokers and, ultimately, others whose freedoms and choices may one day be threatened. Sometimes it's hard to believe that one voicebox, er, voice, can make a difference, but it can.
Remember, some people will not be satisfied until smoking is illegal. If you want to make sure that doesn't happen, it's up to you to do your part to protect your rights as an adult smoker." (http://www.rjrt.com/rights/legSmokers.aspx)

However, the population base of the small collection of islands, much like Japan, has been one of the leading nations in the new age of globalization. Their product users often scour for difficult-to-find items such as Winston Salem Nascar Jackets, Marlboro Man Cowboy Hats, as well as automobile pine tree air fresheners and aviator sunglasses. Their consumers hardly venture out of the house, and when they do, are often on the patio, enjoying that rich, delicious taste their body has come to love. This saves the country from relying so heavily on oil and other non-renewable energy sources. The US economy, based heavily in technology and idiocy, has difficulty finding customers for many of their products, such as remote control fly swatters, EZ Bake Ovens, Lincoln Logs and "There's a reason I'm not with stupid anymore" T-shirts. This waste of money, coupled with their growing dependence on non-renewable fuel sources has economists predicting a serious economic recession.

Jackson Stummond, a professor of microeconomics at the Wharton Business School, says he expects to see a turnaround in the very near future. "With the repeated failures of the space program, the dissolve of trade unions, continual decline of school system, outsourcing, company fraud, terrorism, steroids, American Idol, a failed foreign policy and reliance on foreign-based oil, the United States will be forced to do what it does best--declare war to jump start the economy."

Strummond continued, "After all, it's the American way."